BECOME A PRODUCER
Who can join, and how?
Individuals over the age of sixteen with suitable produce to sell may apply to join their local Country Market Society. Regrettably there are no facilities for group membership.
Prospective new members are always recommended to visit their nearest Country Market during opening hours and have an informal chat with the Market Manager, who will be able to answer questions and will forward membership applications to the relevant Market Society.
This nearest Country Market will normally become the members 'Home Market', but Members are able to sell their items through any of the Country Markets belonging to the relevant Market Society. Members may apply to join more than one country Market Society, but must make each application separately.
Details of all Country Markets are listed on www.country-markets.co.uk.
What do Country Markets sell?
All items sold through Country Markets must be home-made, home-grown or hand-crafted in the home of the producer by the Member. Country Markets do not sell bought-in goods, or buy in goods for resale, or sell on behalf of third parties.
The items on sale will vary from Market to Market, but will usually include baked goods, preserves, honey, eggs, fruit, vegetables, plants and crafts. Meat, fish and dairy products are also available at some Country Markets.
New Members are advised to start small to see what sells, and then to build up to a level that feels comfortable.
How are Country Markets run?
All Country Markets are run co-operatively. Members do not have their own individual tables; all goods are put on sale together, like with like. Members are encouraged to take part in the general running of the Market.
Each of the Markets is a member of a local Co-operative Society registered under the Co-operative and Community Benefit Societies Act 2014. The sixty plus Societies are supported by Country Markets Ltd based in Chesterfield.
What are the costs?
It costs just 5p (five pence) to become a Member of a Country Market Society. Once approved, Members must have access to an up-to-date copy of the Country Markets Handbook ether by purchasing a paper copy or access to the members' area of the Country Markets web site. Members are also responsible for purchasing approved packaging materials, labels and invoices. Markets and / or Societies are usually able to help with the sourcing of these items.
Members are paid each month for the sale of their goods less a small commission of about 10% which is retained to cover running costs, Product and Public Liability Insurance etc.
The Country Markets Handbook
Trading legislation is complex, especially concerning food safety, but Country Markets Ltd strives to ensure that Country Market Societies are kept informed of the latest requirements. The rules are there for everyone's protection. By following the rules, Members can be confident that all possible steps have been taken to ensure that produce is of a very high standard, is safe for the consumer, and complies with the law.
Food Hygiene Certificates
All food handlers, and Country Markets Members are no exception, are required by law to undertake relevant food hygiene training. For Country Markets cooks, the required qualification is currently the Level 2 Award in Food Safety in Catering, which must be renewed every fifth year. Your local Country Market should be able to tell you about courses in your area, or a list of independent course providers can be found on the Chartered Institute of Environmental Health's website – www.cieh.org
Online Food Hygiene Certificates
It is recommended that all courses are tutor- based. However, where these are difficult to access online courses may be taken. Prospective Members are advised to check that online courses are acceptable to the Market / Society they wish to join and also their local Environmental Health Officers.
Do I have to register my kitchen as a food business?
This depends very much on the stance taken by the local authority in which each market is based, this varies around the country. Each Country Market furnishes its local Environmental Health Department with the names and addresses of food-producing Members, and it is then up to the local Environmental Health Officers to decide whether individual Members' kitchens need to be registered and / or inspected.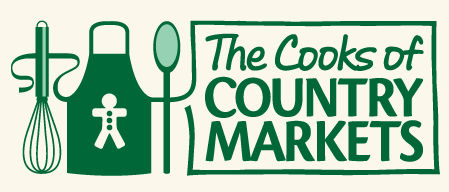 Indirect Sales
Country Markets baking and preserves can now be found in a small but increasing number of local community shops and various other outlets.
For more than 90 years, many thousands of cooks have been making delicious, wholesome, homemade food in their kitchens and selling it in Markets all over the country. Now, in an exciting new initiative, The Cooks of Country Markets are selling their produce in local community stores, village and farm shops and garden centres.
Demand for homemade food has grown enormously in response to the increasing interest in real food, made by real people in real places. The Cooks of Country Markets preserve, bake and make products in their own home kitchens to sell within their local communities.
For more details click www.cooksofcountrymarkets.co.uk.
Indirect sales can provide both an additional and an alternative outlet to selling directly in the traditional way. These small beginnings will expand further and eventually extend into gardening and crafts.
The same membership and food hygiene criteria apply to both direct and indirect sales producers.