Julie bakes cakes and savouries for Ulverston Country Market, such as Victoria sponges, sponge loaf cakes, lemon drizzle cakes, brownies and cup cakes. Cheese and onion pies, quiches, curried vegetable pies and soups.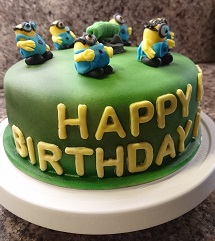 All of her bakes and soups are suitable for vegetarian diets. She can also bake using no gluten containing ingredients (gf) as well as dairy free (df) and vegan cakes and savouries.
Julie can and does make items to order, so if there's something you want in particular let her know and she'll do her best to make it
for you.
Julie specialises in celebration cakes of all varieties. She'll work with you to make sure the cake is what you want for your special occasion. A deposit is taken for the celebration cakes.